Hiriko, a folding electric vehicle
by Alki Delichatsios | 02.02.12
The Hiriko, meaning "Urban Car" in Basque, is a folding electric vehicle with ultra-maneuverability, designed for crowded cities. Three Hiriko vehicles can park in the same amount of space as one normal vehicle. Developed at MIT Media Lab's Changing Places group, the Hiriko is a project led by seven small Basque firms and was successfully unveiled at the European Commission last week.
The technical splendor behind the Hiriko are the "Wheel Robots".  Basically, the maneuver components of the car – motor, suspension, steering, braking – are integrated into each wheel, instead of being centralized. These modular wheel systems allow several advantages: compactness and foldability to reduce the overall footprint of the car when parked ; increase maneuverability including the capability for the car to spin around its own center ; and decentralized system allowing for a simplified distributed manufacturing system.
The Hiriko is equipped with lithium-ion batteries with a driving range of 120km (75 miles) per charge.  When folded, the Hiriko is about 60 inches, such that three Hiriko vehicles can fit in the same parking space as one normal car.  The vehicle can carry two passengers, which enter the car through the front windshield which swings upward to open.
The Hiriko is envisaged as part of a car-sharing program like Autolib' in France, but will also be available for personal sale at about 12,500 euros.
Backed by Denokinn, a Basque investment group, trial production of 20 Hiriko cars and a pilot of a car-sharing program will begin in 2013 in the Basque Region. And eventually they hope to expand to cities around the world, with discussions already in progress with Berlin, Barcelona, San Francisco, and Hong Kong.
Photo credit: William Lark Jr. Smartcities MIT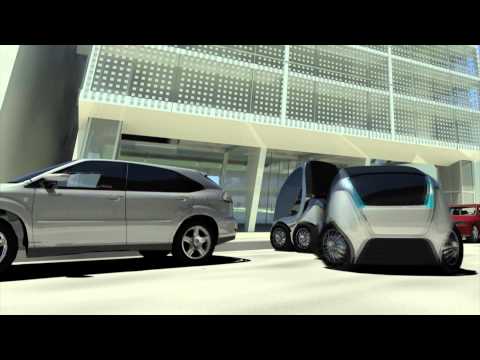 Author's Express Bio

Alki Delichatsios is an energy and recycling enthusiast who loves to discover exciting energy projects and the inspiring people behind them.  In addition to writing for Watt Now and Cleantech Republic, Alki works with EarthSpark International, a non-profit developing clean energy solutions in Haiti, where she is overseeing the professionalization and expansion of retail operations on the ground in Southern Haiti.

Prior, Alki worked in France for five years in sales and business development for Areva in the nuclear recycling business unit. She holds a B.A. and an M.Eng from MIT in Electrical Engineering and an MBA from the Collège des Ingénieurs (CDI) in Paris.